Your entire power quality history is always accessible online with flexible event searching and filtering capability.
Searching For Events
Use the i-Grid Event Search tool to find events by type, severity, duration, or date/time. You can perform searches on individual monitors or groups of monitors.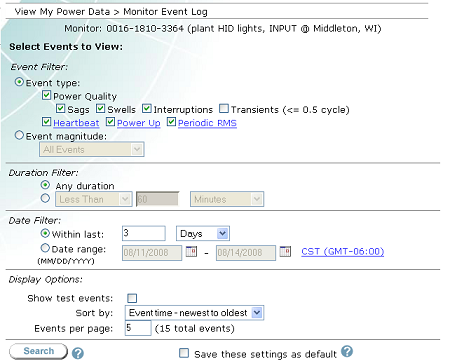 ---
Understanding the Search Results
The search results include the ID (unique event identifier) of the event, the local time, and the IEEE classification (or type) of event. The worst-case RMS as a percentage of the nominal voltage, the event duration and monitor name are also displayed. Page through the search results and click on the ID column of an event in the list to view additional details (see next section).



---
Viewing Event Details
The Event Detail page for power quality, heartbeat or power-up events includes the minimum/maximum RMS, voltage waveforms, and RMS charts. The Event Detail page for Periodic RMS events displays the minimum, maximum and average voltage over an extended time period. Click the Learn More buttons below to learn more about the i-Grid Event Detail page.


PQ/Heartbeat/Power-up
Event Details
Periodic RMS Event Details